Recording from Tibor Varga Competition
Bach sonata 3 Adagio, Fuga скачать видео -
Download
ПОХОЖИЕ ВИДЕОРОЛИКИ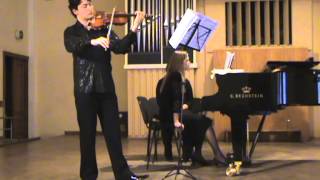 4 г. назад
violin Stepanenko Maksym, piano Alena Taranenko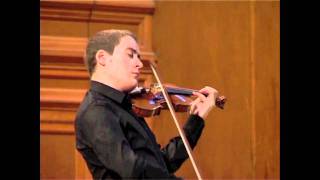 6 г. назад
www.kristofbarati.com Great Hungarian violinist, Kristóf Baráti performed Bach's 3 sonatas and 3 partitas during one single concert at the Moscow Conservatory on the 19th of January, 2008.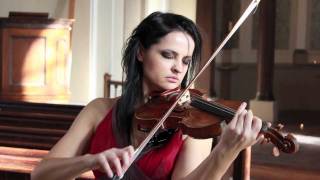 5 г. назад
Johann Sebastian Bach: Fugue from Sonata for Solo Violin No.1 in G minor BWV 1001 Lana Trotovsek (violin) http://www.lanatrotovsek.info on twitter You can support the artist by downloading "Lana Trotovsek - Bach: Fugue in G minor" from iTunes here https://itunes.apple.com/gb/album/violin-sonata-in-g-minor-bwv/id938003538 You can also download from http://www.cdbaby.com/cd/lanatrotovsek2 subscribe to LanaTrotovsek youtube channel here http://www.youtube.com/channel/UCqrmoyViXyXjlDZaD0ScPMQ Sound and video recording: Boris Bizjak http://www.borisbizjak.com/#!hedone Recorded in the Church of the Ascension in Blackheath, London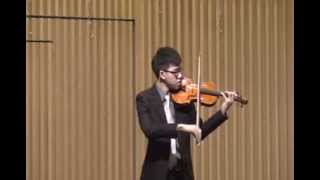 6 г. назад
J.S Bach's Violin Sonata in C.Maj (BWV 1005) - 2nd part : fuga Live Performance on the mandolin (Calace's Classico A) by Mathieu Sarthe Mouréou. The original score is unaltered. Recorded the 07/19/2009 in the Church of Montjoie-de-Cousserans (France) Sorry for the noises, using a stand on this old floor was not a good idea... ------------------------------- Sonate en Do Majeur pour violon seul de Jean-Sébastien Bach (BWV1005) 2e mouvement : fugue. Interprété à la mandoline par Mathieu Sarthe-Mouréou, la partition originale n'a pas été arrangée. (Mandoline Calace Classico A "tuning", seuls caisse et manche sont d'origine). Enregistré le 19 juillet 2009 en l'Eglise de Montjoie-de-Cousserans durant le 8e festival Mandolin'Ariege. Nota : Je fais largement plus de bruit en bougeant que toutes les personnes réunies dans l'église... j'ai un peu été piégé par le parquet et le repose-pied... désolé !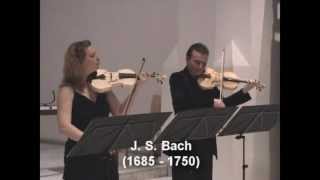 5 г. назад
Johann Sebastian Bach (1685-1750). Sonate No.3 in C-Dur BWV 1005. Fuga Was performed on Gala Concert (2008) on unvarnished violins especially made by violin maker Marcus Wyrsch for this project. Innovation Duo - Anna & Jakub Dzialak Savytsky European audiences first heard of the Innovation Duo in 2004 when they performed P. de Sarasate's works at the Porto-Carras Festival (Greece). Since then, they have performed hundreds of concerts and their courageous repertoire strategy has already been confirmed by the extensiveness of their tours, the enthusiastic reviews, as well as a library of scores written especially for this extraordinary duo. The violin duo is a distinct, elitist chamber genre, meant for a discriminating and exacting audience. With their unique skills and phenomenal energy, Anna Savytska and Jakub Dzialak have been able to win the hearts of thousands of listeners. These brilliant soloists, winners of numerous prestigious international competitions (Grazyna Bacewicz Prize 1995, Asahi Shinbun Prize 1996, Yfrah Neamann Prize 1997, Bela Bartok Prize 1997, Viotti Prize 1999, Romano Romanini Prize 1999, Lorenzo Perosi Prize 2000, Vaclav Huml Prize 2001, Club Lion Prize 2002, P.de Sarasate Prize 2003, Thessaloniki Chambermusic Prize 2004 and 2006, Culturprize Bülach 2006, Stravinsky Prize 2007, Gyorgy Cziffra Prize 2008, Geraldine Whittaker Prize 2010), with the rare intuition of partner-instrumentalists, scarcely have equals in the concert world today. Their virtuoso technique with a wealth of sound gradations and multi-facetted dynamics -- from the strong, dramatic forte to the mystical, hushed piano -- create a feeling of a multi-timbre orchestra in miniature. The goal of the Innovation Duo is to embrace the whole duet-violin repertoire from the 16th to the 21st centuries, to give new birth to forgotten masterpieces of the Renaissance and Baroque and to interpret in their individual style Mozart's popular salon music as well as that of the romantic epochs. In addition, they hope to offer their own interpretations of modern experimental scores, written especially for the contemporary music festivals in Poland, Italy, Switzerland, Kosovo and Ukraine. Irreproachable taste, a perfect sense of style, charisma and the ability to create an illusion of dramatic dialogue between the instruments are the keystones to success ensuring a long and creative future for Anna Savytska and Jakub Dzialak. Camera by Olivier Meier Video made by Artem Shmahaylo for InMuSt Productions © InMuSt Productions 2012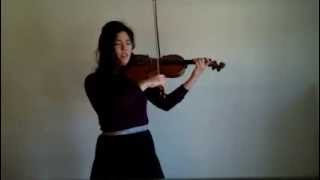 3 г. назад
Rachell Wong, violin
4 г. назад
Santori Hall, Tokyo, on May 25. 2005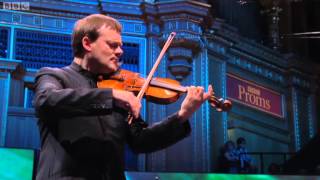 4 г. назад
Prom 57: Wagner, Berg, R. Strauss & Ravel J. S. Bach - Sonata for Solo Violin No. 2 in A minor, BWV 1003 Andante (Mvt 3) Encore Gustav Mahler Jugendorchester Daniele Gatti conductor Frank Peter Zimmermann violin Royal Albert Hall, 26 August 2012
4 г. назад
16 year old American violinist Stephen Waarts performing the Adagio and Fugue from Bach's Solo Violin Sonata in C Major BWV 1005 in the semi-final of the 2012 Joseph Joachim International Violin Competition, Hannover 
Full competition recital streaming available at: http://bit.ly/X5wMQm

 © 2012 Joseph Joachim International Violin Competition, Hannover The Violin Channel | The world's leading violin and strings comprehensive news source | A must-join for all violinists, string players and classical music fans | http://www.theviolinchannel.com | http://www.theviolinchannelstore.com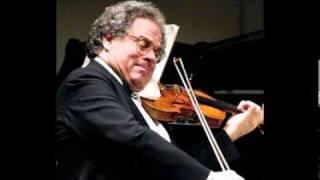 6 г. назад
Itzhak Perlman Bach Violin Sonata No.1 BWV 1001 1~3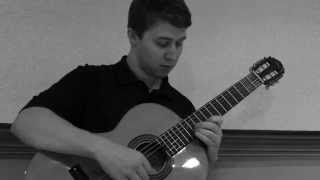 4 г. назад
JS Bach (1685-1750) Violin Sonata III BWV 1005 Fugue bach guitar fugue Ryan Johnson, guitar Acoustic Library, producer/studio Click here to Subscribe http://www.youtube.com//subscription_center?add_user=AcousticLibrary Follow me on Soundcloud https://soundcloud.com/acoustic-library Follow me on Twitter at https://twitter.com/Acoustic_Lwww.viewfromaburrow.com