ПОХОЖИЕ ВИДЕОРОЛИКИ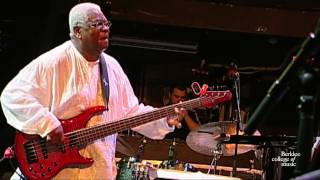 3 г. назад
Abraham Laboriel Sr. performs "Listen to your Brother" along with Abraham Laboriel Jr. and Mateo Laboriel at the 2014 Alumni Reunion Concert (Bring it Back to Berklee) in the Berklee Performance Center. "Listen to your Brother" (A. Laboriel Sr.) Abraham Laboriel Sr.: vocals/bass Jethro Silva: piano Abraham Laboriel Jr.: drums Mateo Laboriel: guitar Recorded live in the Berklee Performance Center Ed Liberatore: house sound Mariana Migliore: lighting Zach DiMeglio: spot Alden Marchand: spot Matt SanGiovanni: stage crew Justin Vining: stage crew Steve Nichols: mixing engineer Filmed by Berklee Video Services Katerina Tolkishevskaya: director/switcher Eli Chess: video Engineer Simon Benegas: camera Allegra Cramer: camera Collin Dennen: camera Cameron Smithson: camera Nicole Egidio: editor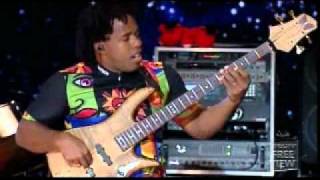 6 г. назад
Victor Wooten - Amazing Grace Bass Solo - Aqui No canal da Banda Tito , além dos melhores vídeos da banda tito, iremos lançar sempre alguns clipes e vídeos do melhor que há no meio gospel, fiquem atentos e curta basatante nossos vídeos, muita música de diferentes estilos, adoração,black,hip-hop,sertanejo,pop,rock, e muito mais,encontre aqui também vídeos do seu artista favorito.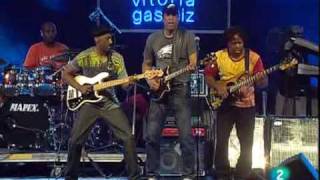 8 г. назад
Stanley Clark, Marcus Miller & Victor Wooten versionan Beat It de Michael Jackson. Festival de Jazz de Vitoria Gasteiz 2009
7 г. назад
Marcus Miller Eric Clapton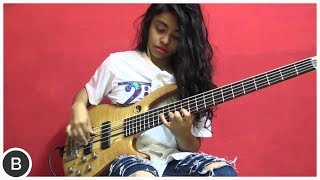 2 г. назад
Wanna see more cool bass videos? Please support us: ► https://www.patreon.com/basstheworld ► https://www.paypal.me/basstheworld Drummer Gergo Borlai and young bassist Mohini Dey from Mumbai perform "Day by Dey". Find out more about Gergo: https://www.facebook.com/gergoborlai https://www.youtube.com/user/bgergo2008 Find out more about Mohini Dey: https://www.facebook.com/Mohini-dey-2... Thanks for watching! :) Gregor Fris - BassTheWorld.com http://www.youtube.com/user/bassthewo... http://instagram.com/basstheworld http://twitter.com/basstheworldcom http://www.facebook.com/basstheworldcom
5 г. назад
victor wooten owns a bass Hello! see also: http://baixistas.blogspot.com.br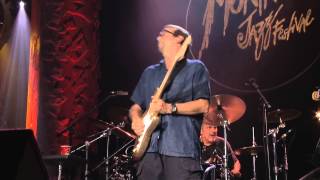 4 г. назад
The opportunity to hear Eric Clapton stretch out in an unusual (for him) setting and in the company of musicians the likes of which he rarely plays with is the principal attraction of Legends - Live at Montreux, recorded in 1997 during the Swiss city's annual jazz festival. Clapton is joined by some superb musicians here (pianist Joe Sample, saxophonist David Sanborn, bassist Marcus Miller, and drummer Steve Gadd); but he is clearly the guy the crowd came to see, and as always, he delivers a passel of passionate, stinging solos. But although some of the repertoire has clearly been tailored for him (there are several straight blues numbers, along with the inevitable "Layla"), he's a bit out of his element. Not that this is by any means a jazz concert; notwithstanding the jazz chops of the other players, the bulk of the nearly two-hour set consists of funky, R&B-based grooves, requiring Clapton to play some intricate rhythm figures and ensemble lines, all of which he does well (he's especially effective on "Put It Where You Want It," a Sample tune from his days with the Crusaders). But where a guitarist like, say, Kenny Burrell could imbue this kind of material with interesting chord substitutions and jazz scales, Clapton sticks with the straight-ahead rock style that made him famous, and sometimes it simply doesn't fit. That won't make much difference to folks who just want to hear the man play. The more nettlesome issue is the fact that despite a couple of certified classics (Duke Ellington's "In a Sentimental Mood" and Jelly Roll Morton's "Shreveport Stomp," neither of which includes the guitarist), overall this music consists of too many riffs and not enough melodies, too many repetitive jams and not enough tunes. In short, Legends - Live at Montreux's biggest problem is its tendency to be boring. --Sam Graham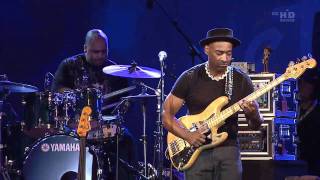 6 г. назад
Festival Jazz Lugano 2008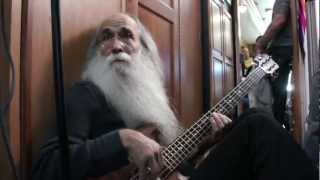 5 г. назад
Some of the world's most famous bass players join on the Warwick bus for jams and interviews and simply a good time. Featuring Jonas Hellborg, Steve Bailey, Lee Sklar, Robert Trujillo, Mike Inez, Ralphe Armstrong, Bootsy Collins, TM Stevens, Divinity Roxx, Larry Graham, P-Nut, jäcki Reznicek, Verdine White. Free DVDs are available under info@warwick.de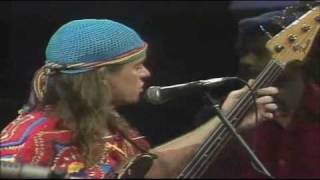 7 г. назад
Live in Italy 1986 Jaco Pastorius - bass Bireli Lagrene - guitar Thomas Böröcz - drums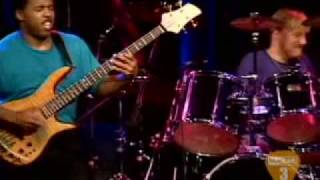 10 г. назад
Victor Wooten Bass solo.