ПОХОЖИЕ ВИДЕОРОЛИКИ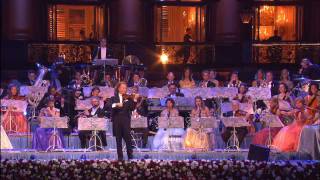 6 г. назад
André Rieu & his Johann Strauss Orchestra playing "The Beautiful Blue Danube" (An der schönen blauen Donau) by composer Johann Strauss II. Recorded live at Empress Sisi's castle; Schönbrunn Palace Vienna, Austria with dancers from the famous Austrian Elmayer Dancing School. Clip from the DVD "André Rieu At Schönbrunn, Vienna". One of André's biggest and most beautiful special ever. Tracklist: 01. Einzugsmarsch 02. Trumpet Voluntary 03. Auf der Jagd 04. Fächerpolonaise 05. Rosen aus dem Süden 06. Heia in den Bergen 07. G'schichten aus dem Wienerwald 08. Der dritte Mann 09. Freunde, das Leben ist lebenswert 10. Die Mädis vom Chantant 11. Die Czárdásfürstin Potpourri 12. Ohne Sorgen 13. Feuerfest 14. My Heart Will Go On 15. Wenn ich mit meinem Dackel 16. Heut' kommen d'Engerln auf Urlaub nach Wien 17. Spiel mir das Lied von Glück und Treu 18. Kaiserwalzer 19. Ich gehör nur mir 20. An der schönen blauen Donau 21. Radetzky Marsch 22. Als flotter Geist 23. Wien du Stadt meiner Träume 24. Musik, Musik! 25. Anton aus Tirol 26. Donauwalzer 27. Strauss Party 28. Adieu, mein kleiner Gardeoffizier For tour dates visit: http://www.andrerieu.com http://www.facebook.com/andrerieu http://www.twitter.com/andrerieu https://plus.google.com/+andrerieu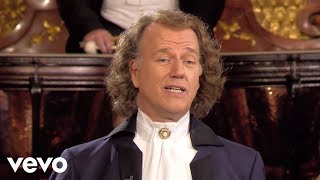 4 г. назад
Listen to André Rieu - Falling In Love here: https://decca.lnk.to/RieuFILID Buy the CD and DVD of André Rieu - Falling In Love here: http://po.st/RieuFILeCVE Music video by André Rieu performing And The Waltz Goes On. (C) 2011 Universal Music Domestic Pop, a division of Universal Music GmbH
7 г. назад
The Ukrainian baritone Konstantin Rittel-Kobylianski/Константин Риттель-Кобылянский/,born in Kiev, studied singing at Odessa State Conservatoire and absolved a postgraduate- and soloists study at the State University of Music in Freiburg (Germany). As of 2003 he began his career with numerously concerts, opera stagings and lieder recitals in different European houses and he partakes often with success in opera festivals in Paris, Strasbourg, Colmar, Hamburg, Dortmund, Krefeld, Offenburg, Stuttgart, Schwerin, Freiburg, Basel, Kiev, Warsaw, Tel-Aviv, Moscow, St. Petersburg, and so on. His repertoire consists of the principal cavalier-baritone roles in Il Trovatore, La Traviata, Carmen, Don Giovanni, Ballo in Maschera, The wedding of Figaro, Don Carlos, Eugen Onegin, La Bohème, Tannhäuser, Don Pasquale, Werther et cetera. Some of the press-commentaries about his performances: ,,Das Opernglas": ,,Noble sang Konstantin Rittel-Kobylianski the role of G. Germont, he phrased ideal, delighted with his wonderful timbre and enjoyed also otherwise his performances vocal completely." (International Palace Festivals in Mecklenburg, Verdi "La Traviata") ,,Badische Zeitung": ,,The Ukrainian baritone Konstantin Rittel-Kobylianski is a singer with this, what is commonly called "Metal", he has a enormously volume and to this a reprensentational profoundness...", "...and on this account it is safe to prophesy him a great future..." ("A Baritone with Metal", from Susanne Brenda) Forum ,,Bavarian State Opera": ,,...Konstantin Rittel-Kobylianski comes up vocally and optically at the highest stage to the requirements of the musical score and regie. He owns a great, wonderful voice. His charisma and personality are above average and this gives you pleasure to listen to him. He has the gift to apply his excellent voice in a sensational way..." (Massenet "Werther") After Konstantin Rittel-Kobylianski had sung with success at the 20th International Music Festival Jubilee in Freiburg "Sympathy for the Devil" (from the Rolling Stones), there accrued in Kiev the idea, to make a Solo-Show-Program of the best American musical-songs ever (like "Be my Love", "Smoke gets in your Eyes", "Moon River", "With a Song in my Heart" et cetera). This program was presented with the Ukrainian-National-Symphony-Orchestra, ballet and chorus, where Konstantin Rittel-Kobylianski has shown with great success that he is not only an excellent singer, but also a good dancer and brilliant entertainer. Konstantin Rittel-Kobylianski was honoured for his committed concert activity with the "Pro Europe Foundation European for Culture Awards" by the European Culture Trust of the European Parliament in Strasbourg (President Committee of Patrons, H.R.H. Prince of Denmark) (Also honoured with this award are Sir Peter Ustinov, Anna-Sophie Mutter, Evelyn Rothschild, Vasselina Kasarova, Mstislaw Rostropowitsch, Valeri Gergiev, Placido Domingo and others).
4 г. назад
Concierto de la Orquesta Sinfonica Infantil Nacional de Venezuela desde el Felsenreitschule en el Salzburger Festspiele de la ciudad austriaca de Salzburgo, bajo la batuta del Maestro Sir Simon Rattle, Director de la Orquesta Filarmonica de Berlin. El concierto iniciaba, el director de la Orquesta Filármonica de Berlin salió al escenario y los primeros acordes de la Obertura Cubana de George Gershwin comenzaron a sonar y se fundían con las exclamaciones y los sollozos de público. Luego de una excelente interpretación de Gershwin, los chicos interpretaron las Danzas de Estancia, Op. 8a de Alberto Ginastera, la cual fue conducida magistralmente por el joven director venezolano Jesús Parra, un niño prodigio que camina entre sus compañeros como uno más, de origen humilde, pero en el momento en el que comienza a mover sus manos frente a esta gran orquesta, la historia cambia y es que viene de un gran linaje de directores, el mismo maestro José Antonio Abreu y Gustavo Dudamel. Era la hora, había llegado el momento mas esperado por todos los asistentes, el Maestro Rattle entra de nuevo al escenario, todos expectantes, ansiosos, el silencio reinaba en la majestuosidad del Felsenreitschule, cuando de repente se escucha un sonido magico, que a todos ecantaba, era el armonico La que daba inicio a La Sinfonía nº. 1 en Re mayor "Titán" del compositor Gustav Mahler. Cada asistente a este concierto se dejo llevar por ese sonido magico cual nube en el cielo flota, estaban hechizados por el sublime Primer Movimiento "Langsam, schleppend (Como un ruido de la naturaleza)", tras la cual aparecía un movimiento rápido dominado por un tema alegre en la cuerda, que luego pasaba a toda la orquesta. Tras una repetición de la introducción, aparecía un tema nuevo en las trompas, que conducía a un gigantesco clímax tras el que el movimiento concluye con una alegría desenfrenada. Luego de este ensueño que profesaban los chicos de la OSINV llegaba el Segundo Movimiento "Scherzo: Kräftig bewegt, doch nicht zu schnell (Scherzo: Poderosamente agitato, pero no demasiado rápido)" la parte central, más tranquila, ofrecía un momento de descanso poético, y que curiosamente parecía una de las danzas de Strauss. Seguidamente de esta música danzante, cuyo final dejaba al publico con una alegría inmensa, llegaba la marcha fúnebre del Tercer Movimiento "Trauermarsch: Feierlich und gemessen, ohne zu schleppen (Marcha fúnebre: solemne y mesurado, sin rezagarse)" que al inicio parecía algo oscuro y lúgubre, pero de improviso el oboe nos presentaba una melodía jocosa, graciosa y un tanto desconcertante que nos transportan a la música que solían interpretar las bandas callejeras y en las que queda de manifiesto los orígenes judíos del compositor. Después de un tercer movimiento lúgubre y gracioso, nos llega el sonido de un golpe al Platillo Suspendido y de otro golpe al Bombo y una explosión de los Metales y las Maderas indicando que el Cuarto Movimiento "Stürmisch bewegt (Agitato)" había llegado. Este movimiento, con ese inicio tempestuoso y de gran longitud, simbolizaba el transito de las tinieblas hasta la luz, al que le seguía un segundo tema lírico interpretado por las cuerdas. En el desarrollo aparecía un nuevo tema triunfante en los instrumentos de metal, pero le fue necesario luchar y ser derrotado tres veces para alcanzar el brillante Re Mayor final. Después de un último pasaje reflexivo, se encuentra el triunfo definitivo del optimismo que a mi juicio me transmitía a una victoria del bien contra el mal. Una vez superada la prueba de la música clásica (pues Salzburgo es la ciudad pionera en este género), llegó la hora de la diversión, de jugar en terreno propio. Simon Rattle realizó la seña para comenzar a interpretar el "Mambo". Entre fuertes acordes, bailes de los chicos e interacción con el público, el teatro se vino abajo, los expectadores gritaban, daban golpes al suelo con los pies, bailaban, reían y lloraban no había forma de canalizar el sentimiento. El aplauso fue tan apoteósico que generó un bis (repetición de la pieza), el cual fue recibido con tanta o más energía. Una vez más, Venezuela se hizo presente con fuerza, ímpetu y juventud y le demostró al mundo entero, que el país es más que mujeres y paisajes hermosos, es también talento y es música pura hecha sentimiento. Obertura Cubana de George Gershwin: 0:00:44 Danzas de Estancia, Op. 8a de Alberto Ginastera: 0:13:40 Sinfonía nº. 1 en Re Mayor "Titán" de Gustav Mahler I Movimiento: 0:30:40 II Movimiento: 0:45:50 III Movimiento: 0:53:54 IV Movimiento: 1:05:20 Mambo de Leonard Bernstein: 1:32:01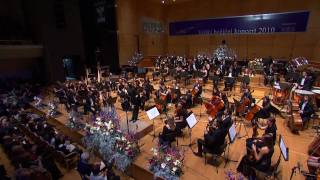 6 г. назад
NEW 2017: American in Paris. https://youtu.be/RUMJPlQwa50 NEW! Amazing and Stunning performance of this orchestra: Smetana - The Moldau! https://youtu.be/l6kqu2mk-Kw NEW! Crazy performance of Slavonic Dances: https://youtu.be/HJnh5MHgThg Gimnazija Kranj Symphony Orchestra on Great Christmas Concert 2010 in Cankarjev dom (Gallus Hall), Ljubljana. Slovenia. Amazing concert was sold out in a couple of hours. Solo violin: Matjaž Bogataj. Conductor: maestro Nejc Bečan. Concert direction: Primož Zevnik. The audience was thrilled by virtuoso playing and special stage charm and energy. Legendary. 1. The Sea and Sinbad's Ship (Largo e maestoso — Lento — Allegro non troppo — Tranquillo) 2.The Kalendar Prince (Lento — Andantino — Allegro molto — Vivace scherzando — Moderato assai — Allegro molto ed animato) 3.The Young Prince and The Young Princess (Andantino quasi allegretto — Pochissimo più mosso — Come prima — Pochissimo più animato) 4.Festival At Baghdad. The Sea. The Ship Breaks against a Cliff Surmounted by a Bronze Horseman. (Allegro molto — Lento — Vivo — Allegro non troppo e maestoso — Tempo come I) Check out new Scheherazade: Behind the Scene of Gimnazija Kranj Symphony Orchestra http://youtu.be/X0wOL8TxMlM Veliki božični koncert Gimnazije Kranj 2010. Osrednja točka večera je bila simfonična pesnitev Rimskega-Korsakova: Šeherezada, op.35. SImfonični orkester Gimnazije Kranj je pod vodstvom maestro Nejca Bečana spravil občinstvo na noge v razprodani Gallusovi dvorani Cankarjevega doma. Solo violina: Matjaž Bogataj. sponzor cvetja: Yasmin, d.o.o, veleprodaja cvetja generalni spoznor koncerta: Hranilnica Lon sound design (tonski mojster): Matjaž Culiberg Prvi klasični koncert v Gallusovi dvorani Cankarjevega doma, posnet v HD tehniki. (Produkcijska hiša VPK). koncertni direktor in režiser: Primož Zevnik primoz.zevnik@gmail.com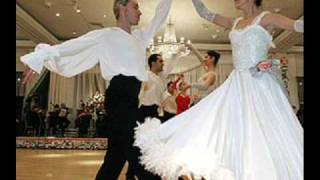 8 г. назад
One wonderful waltz of Johann Strauss Johann Strauss II (October 25, 1825 -- June 3, 1899; also known as fully Johann Baptist Strauss, and Johann Strauss, Jr. was an Austrian composer of light music, particularly dance music and operettas. He composed over 500 waltzes, polkas, quadrilles, and other types of dance music, as well as several operettas and a ballet. In his lifetime, he was known as "The Waltz King", and was largely responsible for the popularity of the waltz in Vienna during the 19th century. Strauss was born in St. Ulrich (now a part of Neubau), the son of Johann Strauss I, another composer of dance music. His father did not wish him to become a composer, but rather a banker; however, the son defied his father's wishes, and went on to study music with the composer Joseph Drechsler and the violin with Anton Kollmann, the ballet répétiteur of the Vienna Court Opera. Strauss had two younger brothers, Josef and Eduard Strauss, who became composers of light music as well, although they were never as well-known as their elder brother. Some of Johann Strauss's most famous works include The Blue Danube, Vienna Waltz, Kaiser-Walzer, Tales from the Vienna Woods, the Tritsch-Tratsch-Polka, and the Pizzicato Polka. Among his operettas, Die Fledermaus and Der Zigeunerbaron are the most well-known.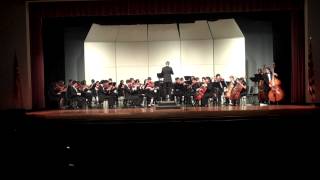 5 г. назад
Rockville High School Symphonic Orchestra performing Saint Anthony Chorale (traditional, after F.J. Haydn), arr. Sandra Dackow at the RHS Spring Concert on April 25, 2012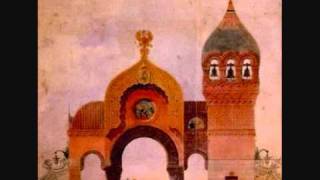 6 г. назад
Douglas Gamley conducts his own orchestration of the finale from "Pictures at an Exhibition," with the New Symphony Orchestra, the Men's Chorus of the Ambrosian Singers, and the organ of Kingsway Hall, London. From the Readers Digest 10-LP set "Music for You," produced by Charles Gerhardt (published 1968). Another later performance of this music, 'live' from the Proms at the Royal Albert Hall conducted by Leonard Slatkin, has also been upload here by me!
4 г. назад
http://www.cbcmusic.ca The Vancouver Symphony Orchestra perform a program that introduces listeners young and old to the various instruments and sections of the orchestra. This is Mussorgsky's Great Gate of Kiev from Pictures at an Exhibition. Conductor Bramwell Tovey.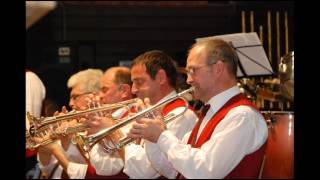 4 г. назад
ERES TU - Original Schwarzwälder Hochwald Musikanten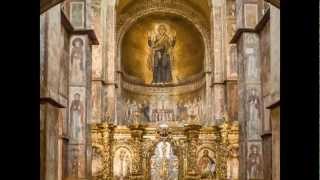 5 г. назад
The foundations were laid in 1037; the cathedral took two decades to complete. After the pillaging of Kiev in 1169, followed by Mongolian Tatars in 1240, the cathedral fell into disrepair. Repair started in 1633 and continued until 1767. After the Russian Revolution of 1917, and during the Soviet antireligious campaign of the 1920s, the government plan called for the cathedral's destruction. The cathedral was saved from destruction; however, in 1934, Soviet authorities confiscated the structure from the church, including the surrounding 17th-18th century architectural complex and designated it as an architectural and historical museum. On 21 August 2007, the Saint Sophia Cathedral was named one of the Seven Wonders of Ukraine.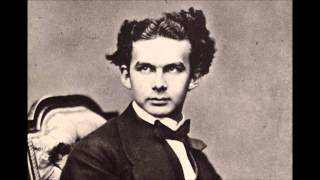 3 г. назад
Richard Wagner Work: March in homage to Ludwig II of Bavaria Orchestra: Musique des Gardiens de la paix de Paris Conductor: Désiré Dondeyne