ПОХОЖИЕ ВИДЕОРОЛИКИ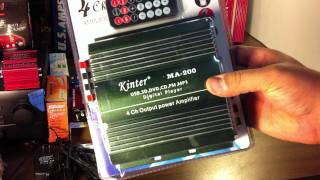 5 г. назад
See the latest mini amps I just got in from China. A few models including: Lepai - LP-V3, LP-168HA, LP-2020A+ Kinter - MA-150, MA-170, MA-200 TeLi - A6 Buy the Lepai LP-2020A+ on Amazon here: http://amzn.to/1uwnQEK I decided to do an overview, and test each amplifier in upcoming videos. This way, you can find out the best mini-amp without buying all of the models, like I did (well, not ALL, but a good percentage!). These mini amps are becoming popular for many reasons. Some uses include; portable stereos, mini system, computer speaker amplifier, car audio and much more. I have plans on making a lightweight boombox and will use one of these mini amps with a small battery so it will be 100% portable. Stay tuned for the mini-amp shootout to decide which one of these pocket-sized amps I'll use based on performance. Also, if you like my videos and want to support me for upcoming videos and products to review, visit http://www.oldschoolstereo.com and click on "Donate" . Any and all amounts are GREATLY appreciated! Read more about the amps on OldSchoolStereo: http://www.oldschoolstereo.com/2011/11/chinese-mini-amp-invasion-kinter-lepai.html http://www.oldschoolstereo.com http://www.youtube.com/bigdwiz twitter @oldschoolstereo -BigDWiz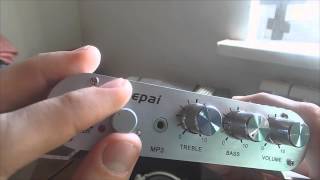 2 г. назад
Не обращайте внимания на звук хрипа,просто фотоапарат не воспринимает бас) Наша группа Вконтакте:http://vk.com/club42025064 Lepai lp-838 (усилитель): http://www.ebay.com/itm/LEPAI-LP-838-3-Channel-Mini-Amplifier-w-Subwoofer-Out-/280900276796?pt=LH_DefaultDomain_0&hash=item4166f6123c усилитель выйграл на аукционе,так что кидаю вам такой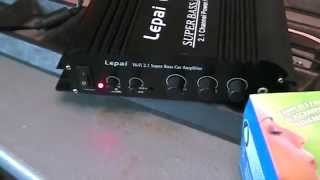 2 г. назад
LEPAI 2.1 amp modification. in original design X-over function does not match the frequencies written in the cover. Bad cpas are being used. low pass filtering is bad..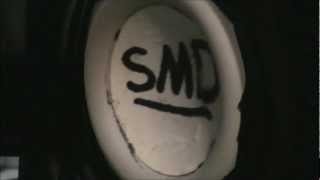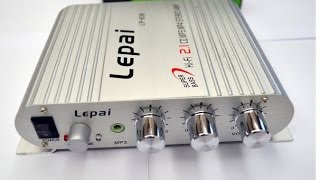 2 г. назад
Links: http://ali.pub/8xq0d
5 г. назад
The Chinese mini amp invasion continues! This time we will show off the Lepai LP-168HA, a 2.1 channel mini amp. It is called a 2.1 amp, because it offers 2 stereo channels as well as a single "bass" channel. Sounds very promising at the rated 40x2, plus 68x1 power output. Now, as we've seen before, the manufacturer's ratings for these amps means nothing...Actual RMS output means everything! Buy this amp on Amazon! http://amzn.to/1uwnUo2 The Lepai LP-168HA offers 3 inputs, all in parallel (non switchable). On the front, there is a 3.5mm stereo input jack, while the back offers left and right RCA input jacks as well as a USB port. The USB port will play back MP3 files on a compatible thumb drive, MP3 player, cell phone, etc. This feature wasn't tested other than for charging and it failed on 2 out of 3 devices tested. The 1st generation iPod Nano was the only device accepting a charge from the LP-168HA...the iPhone 3G nor the iPhone 4 would receive charge from the USB port. The LP-168HA also offers a separate volume (and TINY knob) for the bass channel as well as the stereo channels. Unlike most amps offering a bass channel, there is no "master" volume controlling all outputs. You must adjust the bass channel and stereo channels independently. What a horrible design! Furthermore, the bass channel reaches full power at just a slight turn of the bass volume adjustment. There is no input gain control for the channels, just the volume knobs. Also watch as I verify RMS power output using the Velleman HPS50 and SMD DD-1 Distortion Detector. How close can we get to the manufacturers claim of 40x2 and 68x1? Well, you're gonna have to watch and see.... OK, it's confirmed...I just did some quick tests of my 2nd copy of this amp and it confirmed my original tests. The crossover is a joke, the sub channel is weak and something else VERY IMPORTANT I failed to mention in the video...the LP-168HA wants a higher voltage input than most portable mp3 players can provide. For example, I was unable to drive the amp to full volume (clipping) when using an iPod Nano or iPhone 4. I had to use a 3V pre-out signal from my Yamaha HT receiver for the tests See the "Chinese Mini Amp Invasion" Article on OldSchoolStereo, which also has a matrix of all mini amps tested showing ratings and actual measurements: http://www.oldschoolstereo.com/2011/11/chinese-mini-amp-invasion-kinter-lepai.html Please subscribe to my channel: http://www.youtube.com/bigdwiz Follow me on twitter: http://www.twitter.com/oldschoolstereo Visit my website: http://www.oldschoolstereo.com Keep it OLD SCHOOL!!!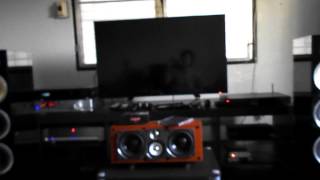 3 г. назад
CDP - Oppo 103 DAC - Moon 350P PRE - Moon 350P AMP - Lepai 838 SPEAKER - B&W CM9
4 г. назад
Песня Baauer - Yaow Сабуфер 4 Ом 160W - От домашнего кинотеатра! 2 Колонки 6 Ом 100W - От старого музыкального центра! Усилитель LP-838 2+1 Super Bass 200W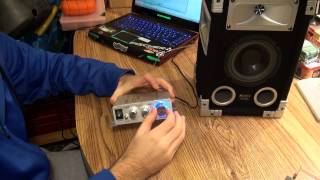 4 г. назад
Buy it here: http://www.banggood.com/Lepy-LP-2020A-Hi-Fi-2-Ch-Output-Power-Amplifiers-Speakers-Car-stereo-Digital-AMP-p-1055851.html?p=SK081032330962015126 Here's my video showing this Lepai running 6x9 car speakers: http://www.youtube.com/watch?v=CsHp_jUY7eY The Lepai LP2020A+ amplifiers sell for around $20 to $30, and are powered by the TA2020 amplifier chip. In my opinion, they are pretty good amplifiers and are geared towards medium sized speakers. Let me know if you have any questions!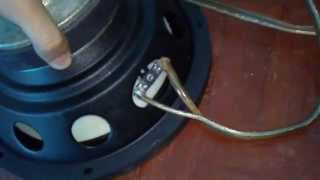 6 г. назад
ขำๆ ราคายาจก ก็ตึบๆละ เหอๆ